RESTON COMMUNITY CENTER Winter / Spring 2019 Glass Classes
(see program guide for 50+ rates)
404040-9C Mosaic Art 1/30, 2/6, 2/13, 2/20, 2/27 Wed 10:00 am - 1:00 pm $230.00/$370.00 five weeks
404040-9D Mosaic Art 3/27, 4/3, 4/10, 4/24, 5/1 Wed 6:30 - 9:30 pm $230.00/$370.00 five weeks
Mosaics are one of the original art forms and pieces can be made to last for centuries. Choose between several exciting projects, levels from beginner through expert, or bring in your own unique project (with instructor approval). Learn something new and make something beautiful. Tools provided, and materials to complete one beginner or intermediate project.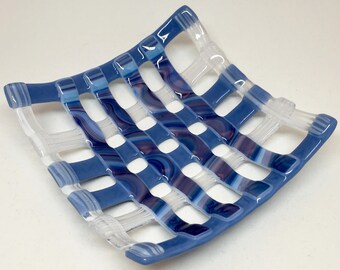 405163-9E Fused Glass 3/20, 3/27, 4/3, 4/10 Wed 10:00 am - 1:00 pm $220.00/$385.00 four weeks
This class will cover the basics of glass fusing. Projects include a panel or slumped piece, cabochon jewelry, frit painting and kiln carving. Full use of manual and machine glass cutting and shaping tools will be made available. Materials are included in class fee. All work will be fired after the last class.
402623-9D Micromosaic Jewelry 3/20 Wed 6:30 - 9:30 pm $85.00/$160.00 one day
Create a beautiful groutless mosaic jewelry piece using real millefiori and specialty glass from Italy, micro tiles from Morocco, crystals from Austria, Germany and the Czech Republic, and other fine materials. All supplies are included in class fee.
404127-9B Stained Glass Sun Catcher 2/20, 2/27 Wed 6:30 - 9:30 pm $85.00/$170.00 two weeks
Create a beautiful stained glass sun catcher that can be displayed in a window. Several designs will be available commensurate with skill level. Students will cut and shape glass using a variety of manual and power tools and will learn to foil, solder, and affix hanging hardware. All skill levels are welcome, and all supplies are included in the class fee.
402126-9C Open Glass Studio 2/3, 2/17, 3/3, 3/17, 4/7, 5/5, 5/19 Sun 1:00 - 5:00 pm $10.00/$20.00
Glass enthusiasts are encouraged to participate in the Open Glass Studio that is held in the Woodshop on the first and third Sundays of the month. The Open Glass Studio is facilitated by an experienced glass instructor. Tools are provided; however, participants must work independently on projects and need to bring their own materials. Reservations are not required. The maximum number of participants per session is seven. The daily drop in fee must be paid at the RCC Customer Service Desk before beginning work. 55+ discount does not apply.